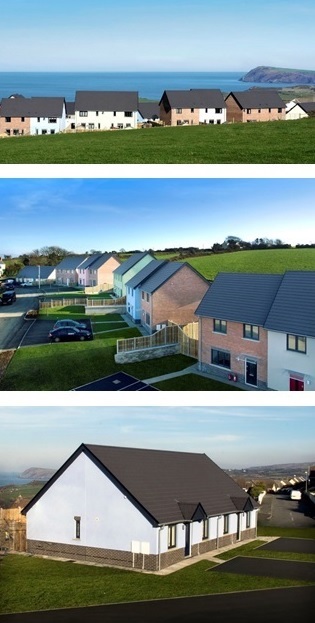 The psychological and physiological effects of colour on the human psyche are well documented. Throughout history colour has been incorporated architecturally to boost public morale and improve the impact of development on the surrounding landscape. For the first residents of a new, affordable housing development, Parc y Cefn, in Fishguard, South Wales where the houses are being rendered in shades of cream, blue, pink and green the future is bright indeed.
The main contractor for Wales & West Housing's £4 million development, Morgan Construction Ltd, sourced the Weberpral M through-colour renders in Cream, Azure Blue, Rose & Sage Green from Jewson in Fishguard, who also supplied Renderplas PVC corner, bellcast and stop beads in Ivory, Sky, Salmon & Willow to match the renders.
Morgan Construction Ltd Site Manager, Mr. Mike Jones, highlighted the "availability and excellent customer service from both supplier and manufacturer" as key aspects to the first 12 homes of the project being delivered ahead of schedule in November 2018. Jewson Fishguard Branch Manager, Adrian Vaughan, agreed saying that regular communication between his branch and Renderplas meant that tight delivery deadlines were consistently achieved.
"This is a complex development to supply; the different building phases require specific colour beads and render at precise times. Renderplas offer a next day delivery service direct to site which has been invaluable on this project."
Airless Plastering Wales Ltd, the rendering sub-contractor on site, are a company with 15 staff specialising in rendering and liquid screeding. Co-owners Luke Jamieson and Richard Medlin, who have over 20 years'experience managing such projects said "for us, working with the Renderplas PVC beads has been the best part of the project. The beads are strong and less flexible than cheaper alternatives making them easier and quicker to install. They are quality beads with no defects ensuring a fantastically smooth finish, perfect for use with a one-coat render system."
Parc y Cefn, is a development of 30 houses and bungalows situated in an idyllic coastal location overlooking Fishguard Bay. The coloured renders have been chosen to reflect the surrounding natural landscape; Azure Blue represents the sea and sky, Sage Green the hillsides, Rose the beautiful West Wales sunsets and Cream the clouds.
When asked to comment on this project, Renderplas Managing Director, Daniel Leedham-Green divulged that "when developing the Renderplas range of 9 natural colours, it was always my intention to ensure that whilst the beads would complement popular ranges of through-colour render, they would also sympathetically blend with the surrounding environment".
Renderplas have a permanent supply of all nine colours in stock in a wide variety of profiles, ready to be dispatched on a next day delivery service. As well as the colours used on the Parc y Cefn project which reflect the rural and coastal landscapes, we also stock the earthy colours of wheat and terracotta and the more urban tones of white, dove grey and slate grey.