RENDERPLAS NEWS

Renderplas on parade at major barracks revamp
Major barracks improvements for service personnel at Tidworth, Wiltshire, feature external walls newly rendered with military precision using PVC beading from Renderplas to ensure well-regimented joints, corners and edges.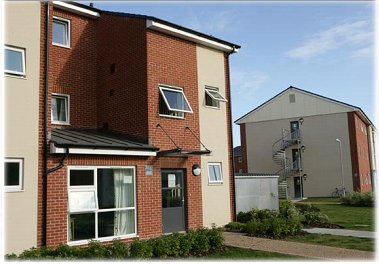 Renderplas's PVC beading offers the contractor significant time and cost savings. Concrete Repairs Ltd, specialist in external envelope renovation, selected Renderplas to supply the 6.5km of beading needed for rendering at Tidworth as part of Project Allenby/Connaught.

Aspire Defence, a joint venture between Carillion and KBR, is delivering Project Allenby/Connaught, the largest infrastructure PFI ever let by the Ministry of Defence. The quality of life for over 18,700 soldiers, 20% of the British Army, is improving thanks to the provision of modern, high quality, fully serviced and purpose built living and working accommodation across the garrisons of Aldershot and Salisbury Plain.

The Project is already significantly improving the lives of soldiers, at what is a crucial time for many, with more than 4,100 soldiers having already moved into their own single en-suite living accommodation. The new and refurbished buildings include Junior Ranks Single Living Accommodation (JRSLA) blocks, eight-man houses, dining facilities, mess halls, offices, stores, workshops as well as sports and leisure facilities which incorporate high performing materials in the external envelopes to improve overall efficiency.

Olu Ogunwale, Contracts Manager at Concrete Repairs, says energy efficiency of an external wall depends on materials and their use. "When selecting the optimum wall covering solution, we choose high quality materials and apply them exactly to specification. Even small details like using wire mesh or a metal bead can ruin the performance in critical areas by introducing potential thermal bridges."

Mr Ogunwale says Concrete Repairs, chose Renderplas as the only partner able to deliver exactly what was required. "We needed someone to supply a bead that would work equally well on refurbishment and new-build walls. We considered traditional stainless steel beading, but we knew there would be performance issues and we were aware of its high cost, the difficulty of cutting it, and the potential for extra maintenance costs that occur if the arris is exposed."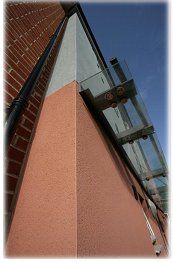 Renderplas was selected as it meets MoD requirements on sustainability and value for money. Mr Ogunwale says: "Beware of lesser PVC beads – Renderplas beads are strong and easy to work with. They're simple to cut to size and easy to work with when render is trowelled on. We have also found that their design saves render, as depth-setting is more accurate."

Renderplas developed all of their PVC beads with performance in mind – and no compromise in terms of style. The range comes in colours that match today's most popular renders. Any minor discolouration of the PVC material is uniform over any facade, so exposed joints and edges will continue to match the colour of the building for the life of the render. With such a narrow arris, Renderplas is ideal for scratched or scraped finishes.