RENDERPLAS NEWS

Don't let a site accident be your fault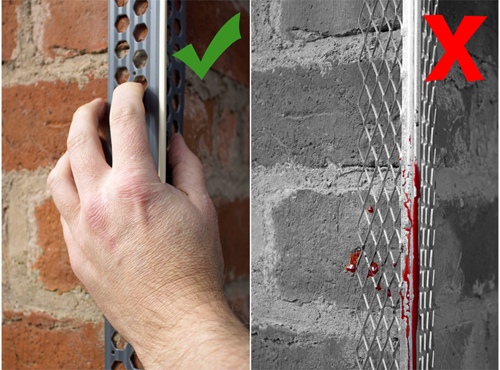 Health & Safety Executive figures show that handling materials is the second most common cause for injuries on construction sites and the Union of Construction, Allied Trades & Technicians states that workers are constantly being exposed to health risks. Leading bead manufacturer, Renderplas, says choosing PVCu beads over metal counterparts could reduce the number of on-site injuries.
"More and more plastering, rendering and wall insulation professionals are turning to PVCu beading for their safety benefits" says Daniel Leedham-Green, Managing Director of Renderplas "and whilst a growing number of contractors and colleges are adopting an enlightened regime of site safety and product selection, there are still so many that aren't."
In North Wales, Grŵp Llandrillo Menai is making sure the next generation of renderers, plasterers and wall insulators embrace a safer way of working and has made the switch to PVCu beading on all 3 of its college campuses to protect students from unnecessary injury.
"When cut, stainless steel beading leaves a very sharp edge that can cause some extremely nasty injuries," says Richard Jones, tutor at Grŵp Llandrillo Menai. "As a college we made the decision to move to PVCu because we felt it was right for our students to work with more modern materials, both in terms of preventing accidents and for delivering the high quality finish demanded on construction projects today. PVCu beading is much sturdier; a small knock will bend metal beading making it useless. PVCu is more robust, making it much easier to level off plaster – and they are non-corrosive and highly durable. Having worked with Renderplas PVCu beads throughout their training, I'm sure that given the choice our students would choose them over metal alternatives every time."
Renderplas supplies the Plastering Department of Grŵp Llandrillo Menai with a wide variety of PVCu rendering, plastering, dry lining and wall insulation beads including Corner Beads for forming strong, straight external corners, Stop Beads for door and window surrounds to prevent cracking, as well as Skim Corner Beads and Stop Beads for plasterboard.
Daniel Leedham-Green says: "We are delighted to be working with Grŵp Llandrillo Menai and seeing such a strong safety ethic emerging, not only in the plastering and rendering contractors of today but those of tomorrow too."