RENDERPLAS NEWS

Mental Health Unit, NHS Fife, Stratheden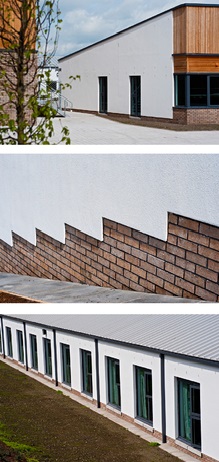 Over 17,000 metres of Renderplas PVC beads are part of high performance external rendering systems for three major Scottish healthcare contracts, including the award-winning Muirview mental health unit for NHS Fife. A variety of beading solutions from Renderplas' external range have been used by rendering specialists, Muirfield Contracts of Dundee, with spray-applied render systems from leading manufacturers. Renderplas was recommended for the projects by Muirfield as a durable, low maintenance solution that does not corrode if beads become exposed over time - a common failing of metal beading. In addition, Muirfield's rendering team finds Renderplas PVC beads safe and simple to use on site, says the company's Contracts' Estimator, Bill Morrison: "As well as offering a reliable, value for money alternative to stainless steel beads, Renderplas profiles are quick and easy to cut to length and fix, which saves us time and labour costs on site."
In Perth, around 15,000 metres of Renderplas PVC beads are providing a high performance solution for a new mental healthcare unit being built by Morgan Sindall for NHS Tayside on the Murray Royal Hospital site. The project, due for completion in spring 2013, will provide state-of-the-art facilities for 183 patients. Corner, Stop, and Movement Joint PVC beads from Renderplas are being used by Muirfield with StoRend Flex Cote, a synthetic, crack resistant external render system, specified in polar white. Providing a tough, flexible finish that requires no over-painting, StoRend Flex Cote is complemented by the use of Renderplas beads in a clean, white finish that match the render colour and do not need to be painted like metal beading.
White Renderplas PVC beads have been used with a Kilwaughter K Rend Textured Finish render system on the other two healthcare projects: Muirview, a 24-bed single storey mental health unit at Stratheden Hospital; and the redevelopment of Chalmers Hospital in Banff. Muirview, completed by main contractor Interserve Building Scotland, utilised Renderplas' 15mm Corner Beads, to provide a straight arris and impact protection around external corners and reveals, and 10mm and 15mm Stop Beads to create a clean-edged 'stop' to the render and prevent cracking around door and window frames. Muirview has been recognised for its architectural excellence by the Royal Institute of British Architects and won the category of Best Mental Health Design at the 2010 Building Better Healthcare Awards.
Nearly 1,700 metres of Renderplas PVC beads have been used by Muirfield Contracts on the redevelopment of Chalmers Hospital in Banff, involving refurbishment of existing buildings and new facilities. Muirfield's rendering team installed 10mm and 15mm Corner and Stop Beads, together with 15mm Movement / Expansion Joint Beads to prevent cracking to render as a result of thermal expansion and compression. Movement Joint beading is designed for areas of render over 20m2 and should be installed every four to six metres of continuous blockwork, over structural movement joints, and changes of background to give a discreet, strong and perfect finish.
Renderplas is able to offer high volume customers like Muirfield Contracts a direct-to-site delivery service, saving them valuable time and resources. Summing up, Muirfield's Bill Morrison says: "We use thousands of metres of Renderplas PVC beads a year so had no hesitation in recommending them for these prestigious healthcare projects. With a profile to suit every application Renderplas offers a very comprehensive range, and in addition to the white beads we've used on these projects there is a wide choice of colours to match through-coloured renders when required."
In its 22nd year, Renderplas was the UK's first manufacturer of PVC beads for the rendering, plastering and dry lining industry, and over the past two decades has led the market with innovations and developments. Amongst the comprehensive choice of beading solutions is the pioneering PowerBead - the first PVC bead that truly outperforms stainless steel to ensure ultra strong, straight edges, and which can be fixed directly to the substrate to save time and money. Renderplas PVC beads can also be used internally for wet plastering, and there are a further seven profiles specifically for drylining. Renderplas PVC beads are BBA certified and conform to BS EN 13914-1: 2005 External Rendering and are available through most leading builders merchants or direct from Renderplas on 01299 888330 or www.renderplas.co.uk.